Curated by Gaja Mežnarić Osole and Danica Sretenović.
Originally produced for Future DiverCities partners and their local coalitions to empower eco-social engagement with neglected cityscapes. 
The School of Feral Grounds situates cultural practices in the world in which capital-driven economies act as geological forces, terraforming the earth into a place where climate change, social inequality, and species extinction call for urgent collective action. The school acts as a forum for interchange, where reflections, concepts, case studies, and generative exercises invite participants to position urban ecologies within the field of culture by interlinking common notions of the urban and ecology. To engage with the feral grounds of 21st century cities we take a close look at the practices between the development of neoliberal cities and nature's capacity to reclaim their cracks. 
Situated in the experience of running the production laboratory Krater and the Feral Palace urgent pedagogy, the school nurtures a collaborative learning environment for thinking and engaging with untamed urban sites. To support their eco-social regeneration, it works to enhance cultural workers' capacities in regenerative place-making and place-keeping, artistic curation, programming, and advocacy. It consists of three study modules (SM) developed and run by architect and theoretician Danica Sretenović and eco-social designer Gaja Mežnarić Osole together with inspiring guest speakers working in visual arts, curation, activism, geography, and ecology. 
SM1: Human impacts on urban ecosystems ━ offers interactive lectures and live conversations with experts on practices that look at human impact at various scales: planetary, city, and site-specific. The module provides a framework to acquaint participants with the conditions of our contemporaneity – of the Anthropocene; 
SM2: Recontextualisation: tools of seeing site ecology and culture ━ a series of mapping and analysis exercises that explore the dynamics of the legal, organizational, more-than-human, and other constitutional bodies of the degraded sites in order to determine an in-depth location ID.  
SM3: Designing for regenerative landscapes ━ a cycle of talks and discussions with invited artists, designers, (landscape) architects, and ecologists to navigate the production of tactics & strategies for designing regenerative interventions. 
Upon commitment to the study programme, attendees will be asked to actively participate in learning sessions, discussions, and the production of documentation by contributing with feral maps, producing site-specific IDs, and developing regenerative tactics and strategies. The process of collective knowledge production will set the stage for an 'international feral movement' dedicated to identifying, valorising, and regenerating feral sites across Europe and beyond.
Trajna is a cultural organisation and interdisciplinary group of designers, makers, architects, and ecologists whose work focuses on restoring multispecies collaborations in urban ecosystems. Currently occupying 18ha of the feral urban ground Krater, the collective is set to produce environmentally conscious materials, infrastructures, and pedagogies to create new alliances across science, policymaking, and cultural production.
SM1: Human impacts on urban ecosystems
The Planetary Scale: Short introduction to the Anthropocene
Before delving into the specific topics of urban ecology, the introductory lecture offers a set of philosophical concepts, scientific findings, and situated observations for understanding the contemporary planetary condition – the Anthropocene. It's hard to imagine that what we do locally has widespread influence across the planet, as we are not tuned to think at large scales. We need to learn how to recognise the entanglements and situate our cultural practices in the world in which human-led activities – more precisely capital-driven economies – act as geological forces, terraforming the earth into a place where climate change, species extinction, and non-human invasions call for our collective action. 
Gaja Mežnarić Osole was in conversation with artist Debra Solomon and lawyer Aljoša Petek.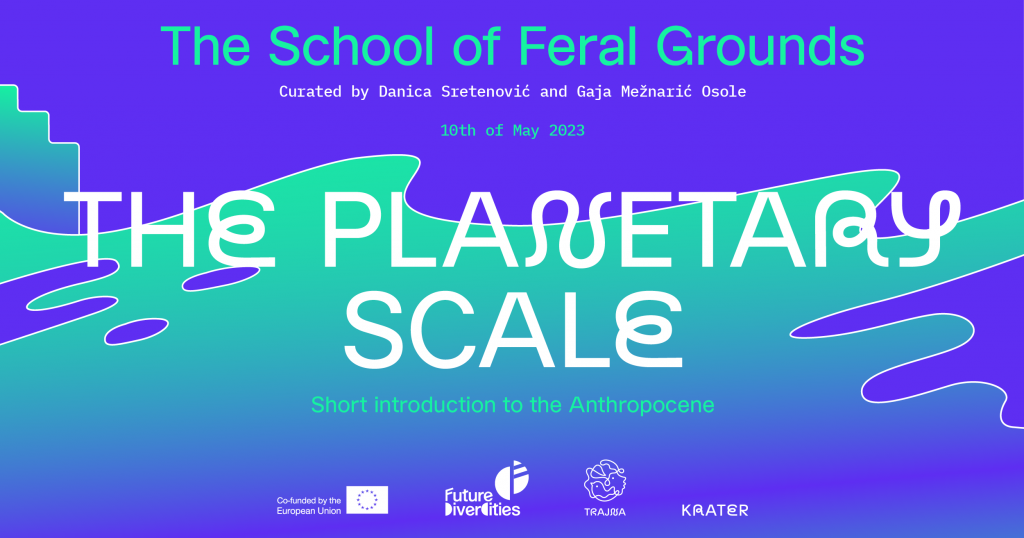 The City Scale: Feral urbanism for 21st century cities that were once cultivated and went wild
The lecture discusses often invisible though instrumental operations fueling urban inequalities – physical manifestations of neoliberal governance models and policies, protocols of land trade, and the lack of legislation acknowledging multispecies spatial rights. How to treat such knowledge as the object of cultural politics? To exercise urban ecologies as a viable alternative to the production of neoliberal cities we tracked recent histories of transformations of exemplary typologies of wastelands to re-examine categories including ownership, user, land use, programme and heritage; and the possibilities of subverting existing categories within cultural programming and from the multispecies point of view. In order to effect a paradigmatic shift in urban development, which is instrumental in bringing about social and environmental inequalities – such as pollution, extraction, devastation of biodiversity etc. – we opposed unlimited growth with feral tactics, in the process creating conditions for the new urban (ecologies).
Danica Sretenović was in conversation with artist Ibrahim Mahama and landscape architect Urška Škerl.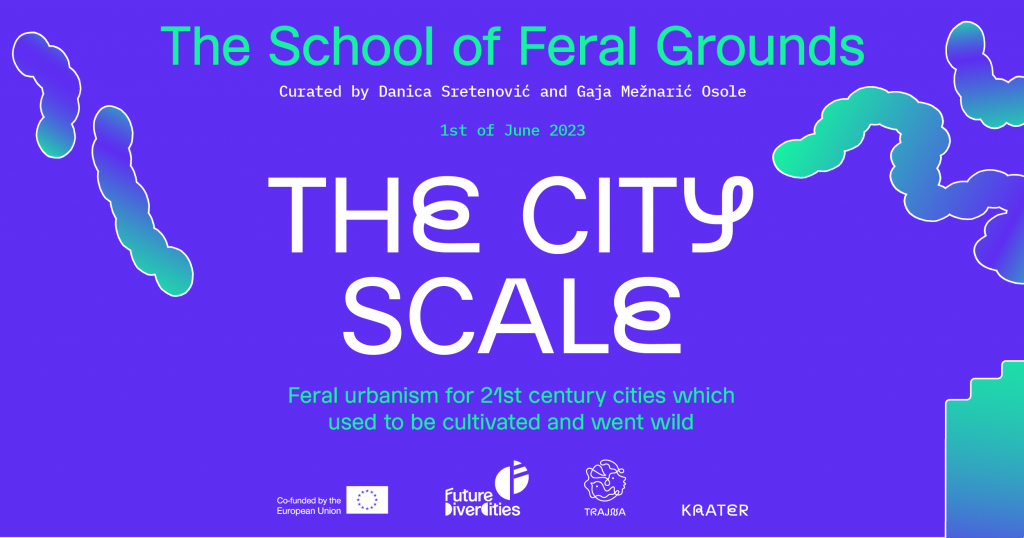 The Site Scale: Feral ecosystems as laboratories for cultivating interspecies collaboration & care

As a consequence of diverse political and economic conflicts, our post-industrial cities are seeing a rise in neglected urban environments (e.g. construction sites, houses, factories, roads etc.) reclaimed by nature. While invisible on planning documents, these largely overlooked yet highly productive green spaces have the capacity to regulate the climate, enhance biodiversity, provide irreplaceable ecological infrastructure, and give rise to research platforms for learning about eco-cultural regeneration. If the citizen's role is often limited solely to the users and admirers of urban parks and forests, then these anthropogenic ecosystems, populated with invasive and other feral plants, human infrastructures, and fugitive compounds ask us for active, attentive engagement. They call for a new generation of care workers who know how to practice slow disturbance through the nurturing of interspecies collaborations. If we were able to recognise the educational, ecological, and cultural value of spontaneous ecologies, could we plan the city by integrating their vital existence into such schemes? Instead of treating them as precarious landscapes on the road to extinction at the hands of human-centric infrastructures, this lecture will explore feral ecosystems as creative laboratories of multispecies encounters and care. 
Gaja Mežnarić Osole, Primož Turnšek and Danica Sretenović were in conversation with landscape architect Violeta Burckhardt.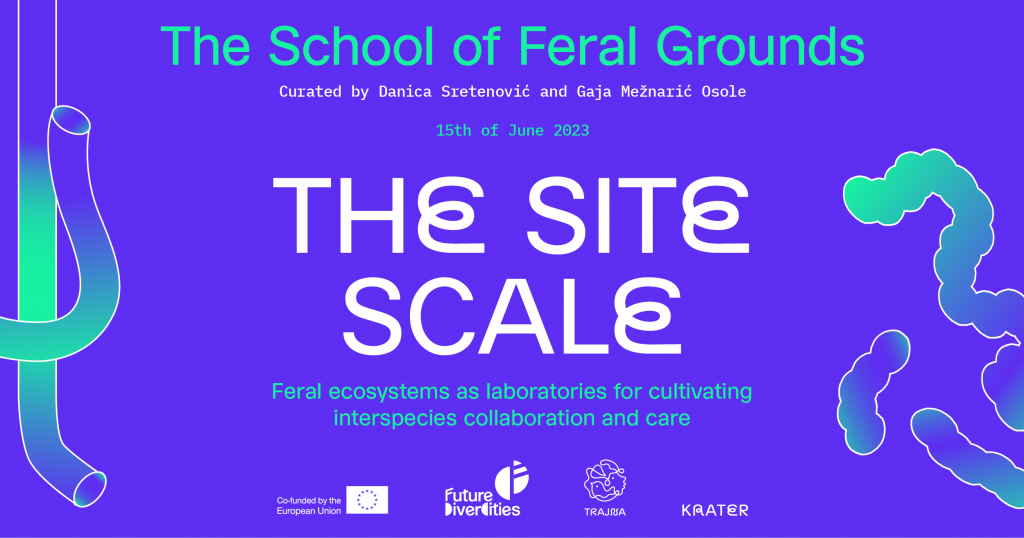 Download supporting materials